Congratulations happy growing
Germination (Day 4 / 10)
woke up to see Boris Lives!
think he's got a little cocopod debrid still on the one leaf but it looks like shell fell off.
We're off and running
((#ItIsAlive)):

((#IWillWatchYouGrow)):
--

---
((#ILoveYourComparisons)):
--

---
Germination (Day 8 / 10)
first drain and fill day, Boris is growing really tall and wide… nice long tap root already. seems super healthy
Early Vegetation (Day 1 / 14)
few more days things are trucking along. humidifier is keeping RH in the 40 to 60 range…drops when it runs out of water pretty quick tho so gonna need it all winter from the looks of it. Boris looks great as far as i can tell so far, its gonna be interesting to see how this progresses differently then Bela. Different strains and having the humidity range and temp range better shaped are main differences.
Plant is looking great so far! Best of luck to you!
I echo your comments about the humidifier and genetics making a world of a difference!
Early Vegetation (Day 5 / 14)
drain and fill day today! Boris is humongous compared to Bela at this date… very cool.
Early Vegetation (Day 9 / 14)
Boris is coming along , everything seems good atm, one or two tiny brown spots I'll keep an eye on but besides that full speed ahead. Still having issues locking in humidity. I think i need to deflect the output a bit more.
constant on with amount "1" is around 40ish. but amount "2" ends up almost 70 (or spikes at least) couple more position changes should get it locked into that 50 to 60ish area before it gets to bushy.
Early Vegetation (Day 14 / 14)
Last couple hours of early veg and looks like Boris is ready to be topped. Tried to make sure I got more plant material without clipping the two branch bud sights to the left and right .
Late Vegetation (Day 4 / 14)
been a few days now since topping and Boris is looking very droopy , each day seems little droopier but hope its just taking time recovering.
Bela didn't seem to be as affected.
Have you thought about running a 2nd Humidifier?
oh it holds enough to run for 4 or 5 days before refilling,every once in a while it will turn off and cycle the "clean light" or run out of water then it drops to 35…besides that i seem to fine.on the RH front.
Drain and fill day noticed not alot of water drained … might have a sensor issue , tried moving then all , they seem like they're working and this fill seems full
Had to handle the roots to untangle probes so I could lift lid enough to install the new hose screen. Hope I didn't finish him off .
Been a couple days things seem idle neither worse or better
Might be bottom leafs are starting to turn yellow , feel of leafs are abit papery vs softer but overall it's still very green , two sprouts from topping are slowly growing in.
Ive marked all the bottles to see if they're not dispensing since all of them were already started from last grow
Any idea I'm all ears.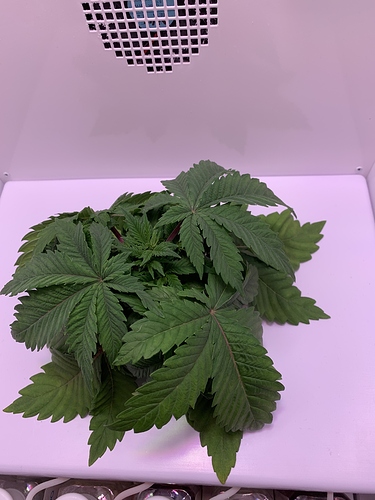 i've been reluctant to do anything while giving it time to recover from topping…that said…since the bottom leafs are completely covered by the top leafs would anyone trim the bottom ones now or wait till she seems happier?
(CheckYourBubbler): (CheckYourWaterHeight): (CheckYour[PHsensor][PHprobe]): (AlthoughItDoesNotLookLikeAPHissue):
(SorryThisHappenedToYou): (ProvideThemWithAPicture): (TheyWillSortThisOutForYou): (ShareThisTopicWithThem):
((#Ticket)): ()

--
((#KeepUsPosted)):

--

---
((#SheIsLookingVeryHappy)):
--

---
Thanks silver, I should have said I've submitted a ticket when I posted this am as well.
Hey @Bloodydrake,
I've responded w deets to your support ticket. It's your bottom water level sensor not reporting. Once we troubleshoot that, drain/fill to feed the hungry little one.
Cheers,
Stephen
just got home from work reading your email now Thx for quick reply
will respond to email with results