Yeah, that's what I was hoping. I'm actually more worried about the water being too warm. But in no rush to buy 300 dollar water chiller.
Right now, I just set it up last night, and the lights kicked on this morning. So I don't have great data on temp/humidity inside the unit, but so far it's looking okay - But I'm no expert
Hey @shadowcipher89,
I agree with your numbers above. Checking your unit I'm seeing when your garage is 79 degrees and your lights are on, the unit is a bit toasty. Ok for germination and early seedling stages, but not so much through all stages. Hoping the garage cools off a bit more as winter is coming. Grab some Hydroguard from Botanicare to ward off any root rot concerns with the warm reservoir.
Good luck with your grow!
Cheers,
Stephen
Hey @shadowcipher89
Which device are you using to monitor temp and rh to your phone? Where did you get it and are you happy with it?
I'm using Govee - Amazon 49.99. I LOVE this thing so far. It taps into your internet, so I can monitor the temperature and humidity from anywhere on my phone. It will also send you alerts, say if temperature exceeds 80F, or whatever you program it to do. It also stores the historical data, so a I can see my temperature and humidity trend over time. I did not want a digital only monitor, as my Grobo is in the garage.
Yup, this device is reliable and has fairly accurate readings (within 3 degree or true temp and rH). The best part is that it's wireless which a lot of the other similar products utilize Bluetooth. The Bluetooth is only used to pair and sync data. You get readings whenever and wherever you are not when your smart device is within range. 100% agree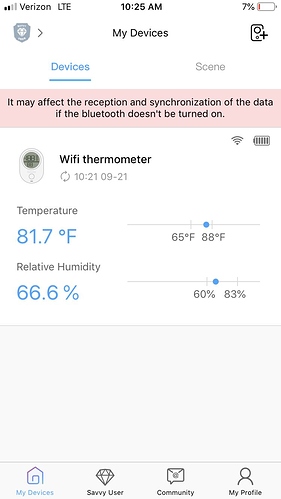 Congratulations! Now it's time to enjoy your investment!
((#Welcome)):
---
--
((#SuperStokedForYou)):
--
Summary

--

--

--
--
---
--
((#GroboSales)):
--
Summary

--


--

--
--
---
Welcome. You're going to really enjoy the experience!
I am moving within the month so have to wait to start to my first grow
I'm just going to leave it in the box
Waiting for mine to ship! Ordered 6 days ago. Hopefully will ship this week.
Ordered mine last wensday , still waiting for tracking , grobo support said about 15 to 35 days for tracking shouldn't take long , knowing that I live in florida .
@Ray2nasty I ordered mine last Tuesday and it said 10-15 days for shipping. Hopefully my estimate was true!
Grobo support told me 15 to 35 days to get tracking , and I did mine on wensday , so maybe we will get ours at the same time;)
Has anyone got an estimate on which day shipping comes in , do they ship them out as the new month comes or what I'm on day 18 , monday will be day 20 for me since I ordered my grobo .
Think you just have to be patient. I got lucky when I ordered mine, and it shipped under 7 days. This was before Dragons Den. It seems like they are having trouble keeping stock levels.
I'm just so happy to hear that shipping has reached the day and weeks status! Back when they started I followed the sales and many waited years and I was in the group that waited 3-4 months and I thought that was quick!
I get the anticipation but I certainly did relish my wait and used the time to prep!
I'm so excited for you all and I just get a tickle out of these post about time/shipment, just know that it will be worth the wait and Congratulations!!!