((#Welcome)):
---

---
@pmlnola, @Jim_T, @Tone, @Manny_T, @David_Flores, @Homegrown, @DrihanG, @Stuart_Watson, @Aang,@HyperOn9, @Snowchief_1776, @Derek_Cn, @Shane_Williams, @Speagler, @Reb_MCMG, @Dr_Off, @Justine_Borges, @Cutty3026, @kimba, @Acidlabz210, @Zorion, @Burner311, @TimA, @Scoutpotter, @Henry_The_Jack, @Etouch2020, @DEisen, @Doug_Dalila_Umoru, @Stephengrowitnow, @Sukari31, @miami5th, @Adrianna_Owens, @boz,
---
@pmlnola,

--
@Jim_T,

--
@Tone,

--
@Manny_T,

--
@David_Flores,

--
@Homegrown,

--

--

--

--

--

--

--

--

--

--

--
@Justine_Borges,

--
@Cutty3026,

--

@kimba,

--
@Acidlabz210,

--
@Zorion,

--
@Burner311,

--
@TimA,

--
@Scoutpotter,

--
@Henry_The_Jack,

--
@Etouch2020,

--
@DEisen,

--
@Doug_Dalila_Umoru,

--
@Stephengrowitnow,

--
@Sukari31,

--
@miami5th,

--
@Adrianna_Owens,

--
@boz,

--

---
Hi I'm new so introducing myself. Vermont!
Welcome aboard! @Snowchief_1776 we hope you stick around because there is a lot to learn from our wonderful grow family!
Planted my first seed - Cindy 99 from growers choice on Mother's Day … day 5 almost day six signs of life are shown
Very happy and excited to start nurturing Cindy to full bloom
Lmk what you guys think
Nice I'm growing c99 too! This is my second run at her. Great daytime smoke👍. Mine just poked up yesterday so we'll be pretty similar
Awesome brother … never had c99 or grown it so thus is a first for me, however the feedback about it is off the charts so I had to try for myself.
Happy growing mate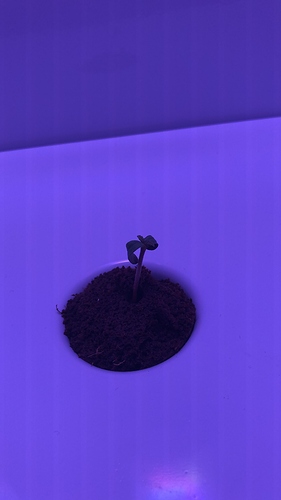 It just sprung up today … looks healthy to me at least for what I can see … any feedback or tips Would help … lmk what you guys think
Hello, new guy here. On my own I smoke a half oz a month and Rec in Michigan is like 400-450oz for the stuff I like. Been getting stuff half that cost from my ex's guy, but I'm tired of getting harsh alfalfa 20% of the time. This seemed like a solid solution. I really wanted to go the route of a tent and build it up, but I travel all winter and I'll be gone 2-5 weeks at a time, so I needed something very low maintenance. Ordered a pack of Killer A5 Haze. Stoked to giver er a go. I've probably spent 5-6 hours on this board today. Learned a lot!
Youll still need someone to do weekly maintenence when your gone but its easy. Even my mother in law did it for me.
Welcome to the forums
Thanks! My neighbor feeds my fish when I'm gone, he's got me covered! But either way, this seemed to be the most stable setup for a hands off experience if needed.
Germination completed day 10/10
The plant looks real nice … so far the Grobo has exceeded my expectations. Primarily with the ease of use and the simplicity it offers with such a complex all in one unit… I love it
Lmk what you guys think and any tips or feedback would be awesome. Happy grows everyone!
Hi I'm Anthony this is my 1st grow , using fox farms strawberry fields potting and fruiting soil no additional nutrients added during veg
Morning Growers…
i really dont know how to work this forum…not very chatty lol but a bit about me is im a music producer turned currency trader out of NJ by way of NYC lol (sound like a prize fighter) ive grown a few strains but grown very tired of the maintenance…i have a gelato starting now…maybe ill do a journal,not sure yet lol…love the concept of grobo,but my personal opinion is its extremely pricey…i seen a guy on here make a filter for the grobo and im like if your that crafty…why even get a grobo? lol…much respect to him though,but the biggest thing about grobo is the micro dosing,its not the lights,its not the filing cabinet,not the app or lack thereof,ITS THE DOSING!!..i have no space in my brain to try and create my own system so as a intimidate grower myself i love the weight you guys are pulling from this thing so i dove in head first like i always do lol…not stressing quality because if you get seeds from any reputable seed bank you will get quality no matter how bad you treat her,so def hoping to pull big yields as a heavy smoker…at least a zip in a half …super happy i purchased this overpriced filing cabinet lol anyways!!!
Cheers Guys and Happy Growing!
We at allgrowers welcome you!
Please let us know if there is anything we can help you with no matter how small or the topic.
Happy to have you and look forward to growing with you!
TY @Bplatinum9 i have tbh i was watching ya grow and i was dying when somebody was calling you a guy and you posted a pic and i was like wow!!..got some cuties on here lol…what you growing now?..i struggle on forums for some reason…cant find peoples grows easily
Navigating can be tricky at first but youll get the hang of it as long as you remember that if your searching for something the search icon
can always take you there faster and if you don't remember the name of the topic you can search using a growers name, or you can always call on a Champion!
Lol your gonna see that post about me being a man a lot on here and it makes me laugh!
There are a lot more woman now from when I first started and they are awesome!
You seem like a great addition to allgrowers and if you have questions I'll always be around to help out! Just attach my name to your post or direct message to get a quicker response.
I'm growing kush n cookies for the second time and I started my first tent grow with a white widow and a super critical CBD.
Nice!!!..and TY for the kind words i was trying to see the one guy grow journal who got like 3 zips from his grow i think,but when i was searching it kept bring me to every post he ever put up and i was looking for just the journal…like u said i guess ill get use to it
yes i was just looking for all his grows not everything he commented on here lol