Okay so had to drain and refill as I guess nutes we're not dispensing correctly Stephen advised that they had a glitch of sorts.
Any who they now have dispensed properly.
Also I think I can top her now?
I think she has about 6 nodes now?
Hey everybody check her out! Day 10/14 of late veg should I extended the late veg stage maybe by another week? Also some pruning?
I would extend late veg at least two weeks, maybe more…
I would extend late veg until it reaches top of second fan.
I'm growing a short plant (kush n cookies) the first time I grew this strain I spent a fair amount of time in late veg but I didn't let it reach the top of the second fan and only ended up with 29 grams…
When I harvest I will repost…
Day 47 Late Veg 23/28
Think she needs some light pruning again?Maybe wait till then end of late veg to prune?
Other than that she looks healthy also ordered some more nutes.
Thanks hope everyone is staying safe!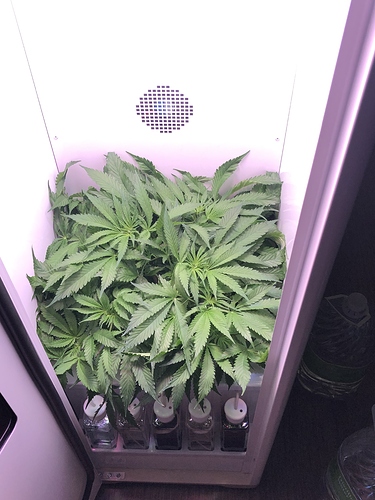 Hello All! Here's and updated photo!
look like a good start…gud luck
Looking good I'd trim a bit still think about it … your going tor remove all that lower growth when you transition anyway so why keep it … I've noticed more plant growth and faster when I trimmed more often cuz it forces the plant to grow new growth to replace what it loss … so why waste the energy on lower growth when it will never see light first off and will get trimmed later on??
She is looking great though good job! And continue on with whatever style of growing you choose
Haven't posted in a while, here's an updated photo, day 78 flower day 12/41
I did notice on some of the leaves the are turning almost white?
Is something wrong?
Thanks! Hope everyone is staying safe!
Question: Has your plant ever been exposed to the light when lights are supposed to be off?
I want to say yes, sort of? The last couple weeks it been lights out when I would do the water change as I'm only able to get to it in the afternoon but that's about it? Could that be the issue?
You should probably adjust the light schedule to accommodate your schedule. So that lights are on when you're doing drain & fills .
Here's and update! Day 98 flower (Day 32/41)
Changed the schedule to work around my time. Than you @Hellyesshedid
She's looking good! Was wondering if I needed to extend the flowering stage? I'm thinking I do she doesn't look like she has big enough buds? A couple photos attached:
Hope everyone is staying safe!
I'm not sure, but it looks like you could probably leave it in Flower for a few weeks. Looks like quite a few white hairs, but my eyes could be playing tricks on me!
((#TeamHasGotYouCovered)):
((#LearningAsWeGrow)):
((#YouAreDoingAGreatJob)):
Bplatinum9 Champion
Hellyesshedid [#ChampionToMe]:
((#ForTheWin)):
--
((#YourGrowYourCall)):
((#Trichomes)):
--

---
(ForTooTallPlants): (ClickHere):

--

(HereComesTheLight):

((#TooTall)):

White widow day 7 of transition

Headlights Kush auto - Emerald Triangle seeds

https://www.allgrowers.com/search?q=hitting%20the%20light--

((#PinchTwistBendRepeat)):

Seedo Mainlining- Super Lemon Haze

--
---
(You are going to want to manipulate your plant so it is not going to burn on the Light):
--

---
Check your probe too
. If you haven't I bet it could use a cleaning
Last 2 days of Flowering after I extended for a few weeks before I start the Flush so a total of 126 days, I would say she's ready or just about so I'm okay to start the flush? I did notice she is starting to burn a bit. Tried checking the little trichromatic but it's a little difficult but mostly I'm unsure or the micoscope I have sucks haha
Thanks!